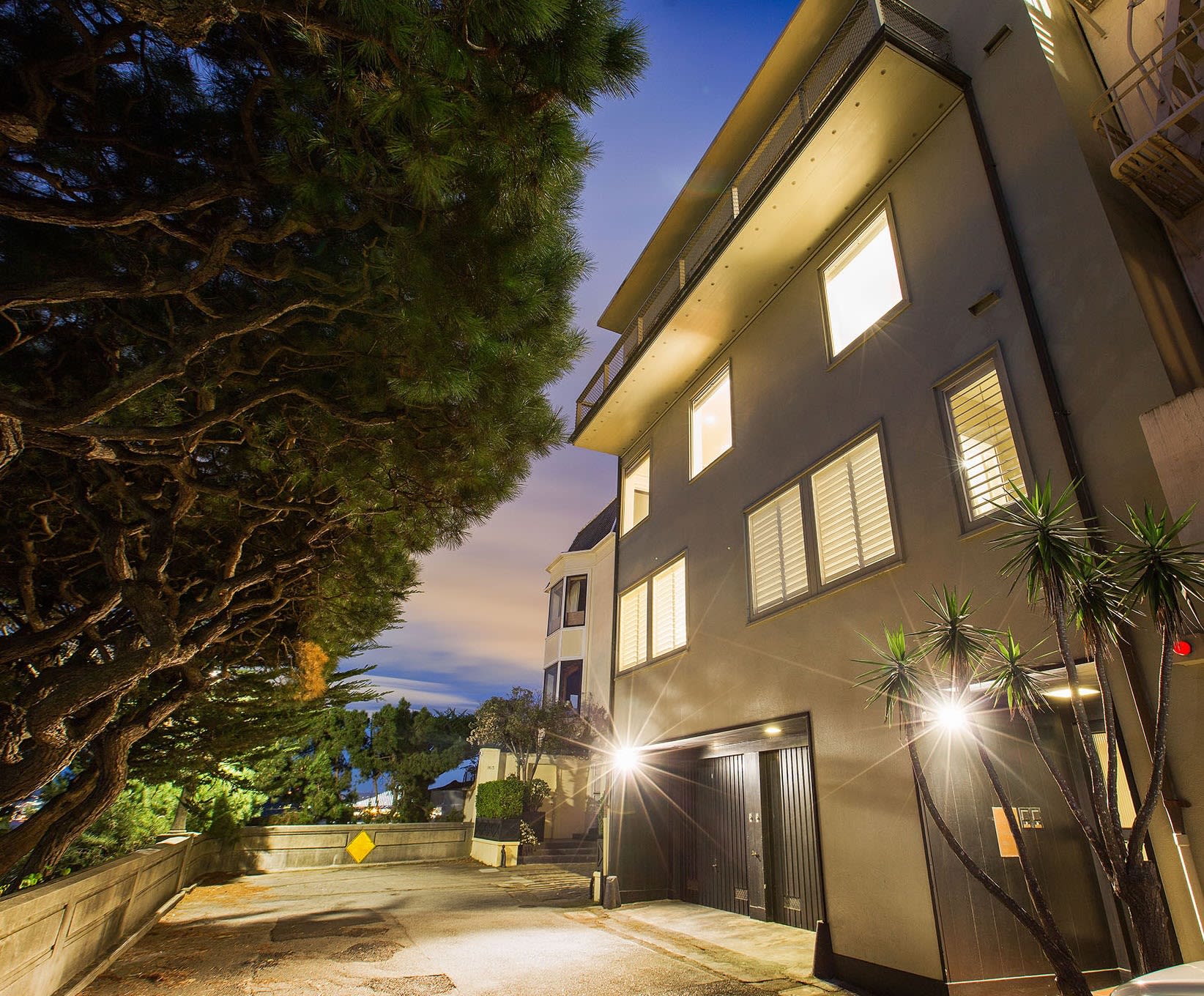 Joel Goodrich
and I are pleased to present a unique, sophisticated, one-of-a-kind home by famed modernist architect and founder of the prestigious UC Berkeley College of Environmental Design,
William Wurster
(1895 – 1973).
This home at
173 - 175 Chestnut Street
not only showcases Wurster's genius in modern design but also features sweeping Golden Gate to Bay Bridge views. Perched on the coveted northeast tip of Telegraph Hill, the quiet cul-de-sac at the top of Chestnut Street makes for an enchanting setting.
In typical Wurster style, the orientation of the house gives each room the benefit of a beautiful view. Whether overlooking the beautiful San Francisco Bay or peeking out at the sun-dappled Thomas Church-inspired garden, each room is situated in a way that displays the outdoor beauty on the inside. Selected spaces, the living room, dining room and master bedroom, have direct views to the Bay and also windows and terraces to the interior garden.
At first glance, Wurster's understatement might fool you. He had a disdain for luxury and over-design yet his use of modesty was brilliant. Wurster's talent for a home's siting and orientation becomes more apparent to me each time I show this special property.
As you may know, Wurster built hundreds of California homes over the course of his 45-year career. A handful of those treasures are situated in San Francisco, and the one at 173 – 175 Chestnut Street built in 1940, also includes a legal rental unit.
More William Wurster homes in San Francisco:
2600 Pacific Avenue in Pacific Heights (1936); sold for $15.5 million in 2010
2850 Broadway in Pacific Heights (1956); sold to Larry Ellison for $3.98 million in 1988
3610 Washington Street in Presidio Heights (1959); sold for $11.3 million in May 2016
3598 Jackson Street in Pacific Heights (1935); sold for $11 million in June 2013
10 Normandie Terrace in Pacific Heights (1953); sold for $7.6 million in October 2016
2424 Jones Street on Russian Hill (1961); sold for $1.45 million in 1990 (recently appraised for $7 million)
2514 Gough Street in Pacific Heights (1941); sold for $3.4 million in April 2014 (sale price was $1,405 million over the asking price!)
17 San Andreas Way in St. Francis Woods (1937); sold for $3.75 million in January 2016
Visit my
Market Insider
page for access to the most up-to-date local real estate trends and listings.